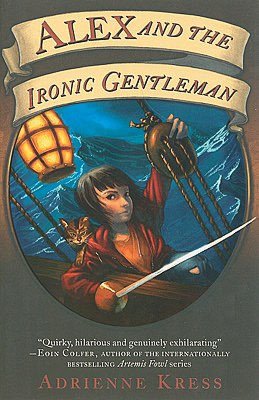 Middle Grade Week rolls on along here, with a romping adventure story by Adrienne Kress, who has a lovely blog by the name of
The Temp, The Actress, and The Writer
, where you can read about her many other books and adventures. But today, we're talking about the first book of hers I had the pleasure to read,
Alex and the Ironic Gentleman.
The story follows one ten year old Alex Morningside as she begins a hopefully exciting new year at the Wigpowder-Steele Academy, with a brand new and equally hopefully exciting new teacher, Mr. Underwood, a gentleman with a curious amount of old-timey pirate type skills, for a supposedly ordinary teacher.
The narrative unfolds in a theatrical and timeless rhythm. Though Alex is introduced as a perfectly modern child in a contemporary setting, the story quickly tunnels into its own delightful history, which nestles perfectly with the classic adventure story tone of the novel.
This one is up next on the nighttime TBR pile for me and Cate Junior.