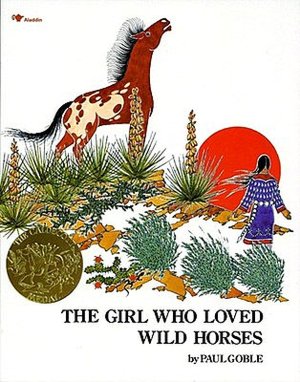 One of my very favorite books as a kid.
Paul Goble
wrote and/or illustrated several books with horse themes, this one, of course, as well as
The Gift of the Sacred Dog
,
Mystic Horse
, and
The Boy and His Mud Horses
, but
The Girl Who Love Wild Horses
is the one I always think of first when people ask for picture book recommendations. And not just because this one happened to be awarded a Caldecott Medal, but because I was a little girl who loved horses, wild or otherwise, and when I was a slightly older girl, I was enamored with Appaloosas. I had two of my own. One was a roan leopard filly that looked quite like the stallion on the cover of this book.
Great picture books do not just inspire with words, or help kids appreciate language, they can make a child fall in love with storytelling and art. This book certainly did this for me.